Online Dating started with a 'usenet' kind of newsgroups to social networking and has become one of the most important part of our personal lives in less than 10 years time. With the growing demand in online dating, thousands of online dating sites were formed. Some sites unbelievably reached millions of members in short periods. With the easiness and forwardness of online dating, millions of singles became couples and got married. But as in all part of our lives, 'cyber-thieves' or nowadays we call them 'scammers' created millions of fake profiles on online dating sites and suckered money from innocent people, who were looking for love on the internet.
So the question is how you can know if the dating site of your choice is reputable and how can you know the person you are getting in touch is a genuine match?:
On the huge ocean of Internet, there are hundreds of free dating sites with maybe a dozen of them reputable enough to give them a try. But the biggest problem with trying totally free dating sites is that it just doesn't attracts innocent individuals like you. It attracts scammers who are creating hundreds of fake profiles everyday, looking forward to wrong moves from genuine people. So most of the time, giving hundreds of free dating sites a try is waste of time which may discourage you to find someone genuine online. So if you really intend to find someone to build a relationship, it's better you find a reputable and cheap dating site where you can meet real people.
After you decided to go with a dating site of your choice, you must keep in mind some of these simple rules for avoiding ghost profiles:
- Use a dating site with distance searching. That tremendously effects your chances.
- Before trying dating sites with millions of members, try cheap but reputable growing sites with hundreds of profiles You will have more chance to meet someone who can reply to you as these profiles will not be overwhelmed with thousands of messages everyday.
- After you sign up with the dating site, whilst searching for your dream mate, always look into the photos that may be fake, eliminate your options to a smaller pool.
- Read profiles,look for sincere and honest descriptions in their personal ads.
- If you receive a message from a too good to be true beauty especially from overseas with so much interest in you be careful with them. Look into their messages and if any part of their messages, they talk about financial problems or even if they tell you their salary honestly, run away from them as you are 90% approached by a scammer.
- Even if you exchange tens of messages with someone, never send money for plane tickets, visas, etc. as this is 99.9% scamming technique, cyber-thieves using everyday.
- After exchanging a few messages, try chatting online and/or on the phone with your match.
Genuine Online Dating Services
FRIENDSATION
is a brand new online dating site and social blogging network for people who are looking for a free online dating, match dating, dating personal, internet dating, adult dating, and many more!

MobileJam launched Friendsation.com July 8th, a free dating/friendship community focusing heavily on mobile phone technology. Friendsation.com will bring free instant messaging, online dating and mobile flirting into one interactive community. Members will have access to user profiles, photo galleries, blog diaries, instant messaging, pc to pc chatting and pc to mobile as well as the ability to send video messages to friends or love interests all at the touch of their keypads. Also, mobile blogging.  Friendsation.com will be available to mobile phone networks in September.
---
Talk121.com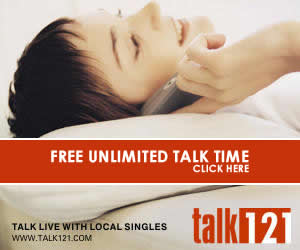 Talk 121
The Talk121 dating service is a fantastic way for guys and gals to make new friends, for both long term relationships or short term casual encounters. Meeting people on Talk121 is not only fun, but it is safe as well. There are thousands of men and women that call Talk121 every day and chat.
Women - get unlimited free talk time.
Men - get unlimted free talk time